The reality of what we're seeing this month is that homes are selling fast. In today's strong seller's market, bidding wars are common and expected with starter or entry-level homes.
In most areas of the country, first-time buyers have been met with fierce competition throughout their homebuying experience. Some have been out-bid multiple times before finally going into contract on a home to call their own.
Right now, inventory is the big challenge. Here's what we know today:
According to the latest Existing Home Sales Report from the National Association of Realtors (NAR), there is currently a 3.9-month supply of homes for sale, which can drive this kind of hefty buyer competition. Remember, anything less than 6 months of inventory is a seller's market.
Even though the month's supply of inventory is not increasing, ironically, the number of homes for sale is. This means homes are coming up for sale, but they're being sold quickly. The graph below shows the year-over-year change in inventory over the last 12 months.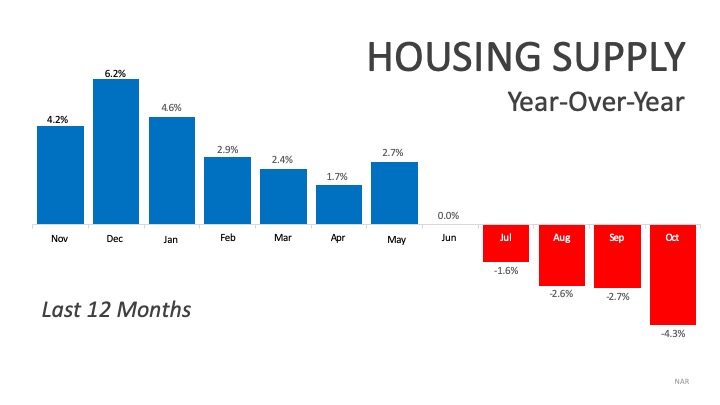 As depicted above, the percentage of available inventory has fallen for four consecutive months when compared to the previous year.
So, what does this mean? If you're a buyer, be sure to get pre-approved for a mortgage and be ready to make a competitive offer, so you can move quickly. Chances are, homes high on your wish list are likely going to go fast.
Bottom Line
If you're thinking of buying a home, make sure you're taking the right steps at the beginning of the process, so you're a top contender if you ultimately find yourself in a bidding war. Let's get together to discuss what you need to do to make your move toward homeownership.
(818) 581-7518
CalBre # 01324975
The information contained, and the opinions expressed, in this article are not intended to be construed as investment advice. Trevino Properties does not guarantee or warrant the accuracy or completeness of the information or opinions contained herein. Nothing herein should be construed as investment advice. You should always conduct your own research and due diligence and obtain professional advice before making any investment decision. Trevino Properties will not be liable for any loss or damage caused by your reliance on the information or opinions contained herein.